I finally got around to making the trip to Columbia to see the Tigers (and especially Aaron Crow). The Tigers have been in a little bit of a slump, dropping their national ranking from #4 to #15. Aaron Crow was on the mound on Friday and they hoped to change their luck.

Aaron looked pretty strong in the first few innings, despite giving up a run in each of the first two. Aside from a double to lead off the game, Kansas State's hits were all ground balls that found their way through the infield. Crow combined an overpowering fastball with a wipeout slider to rack up the strikeouts.

The Mizzou offense was firing on all cylinders early, as well. After two innings the score was 7-2 and Aaron Senne and Jacob Priday had both homered. Priday would add another later, as would Trevor Coleman and Ryan Lollis. Here is a three picture sequence of Priday's second homerun: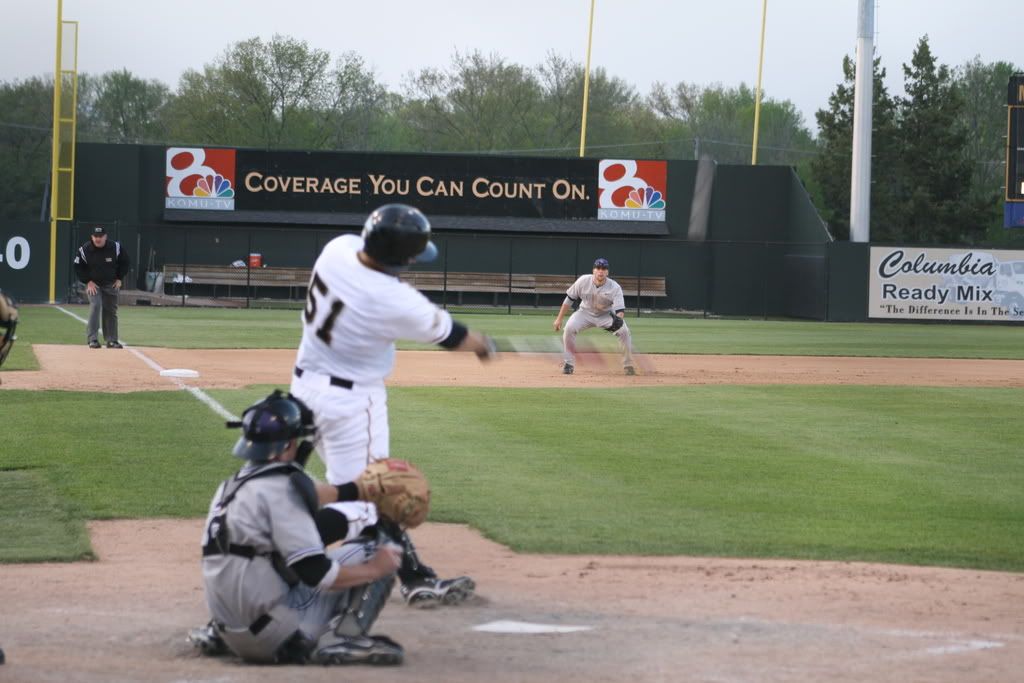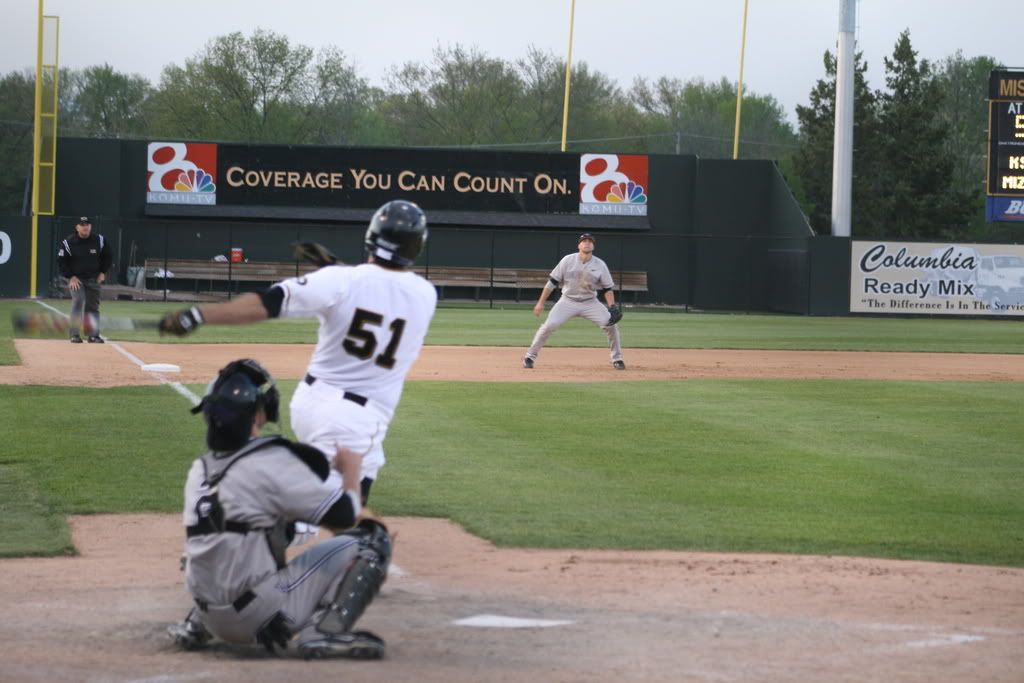 The leftfielder never moved [Note: you can click on the pictures for a full-sized view].
Mizzou held on to win 13-10, but the story was Aaron Crow. He seemed to have the ability to 'turn it on' and become dominant when he needed to, but other times he seemed to lose focus. Maybe he was just hurting, though. Crow came out of the game in the sixth inning with an injury. It looked to me like he was grabbing at his lower back. [UPDATE: It has been reported that he had muscle spasms in his back, which as far as I know did not recur during the rest of Missouri's season] I hadn't noticed any deterioration in his stuff, but he had been a little wild in the inning (in which he gave up 3 runs - two earned - and left with men on first and second).
There are some concerns about Crow's mechanics - check out this picture of his delivery where his throwing elbow is above his throwing shoulder:
I believe that is what
Chris O'Leary
would call an 'inverted W', which is a warning sign (according to Chris). In the link above for Chris O'Leary, he breaks down Crow's delivery and explains why the 'inverted W' is a bad thing. He also talks about a red herring in Crow's delivery: the wrist wrap. O'Leary's conclusion is that the wrist wrap is not a red flag, and that may be, but it is odd looking in person: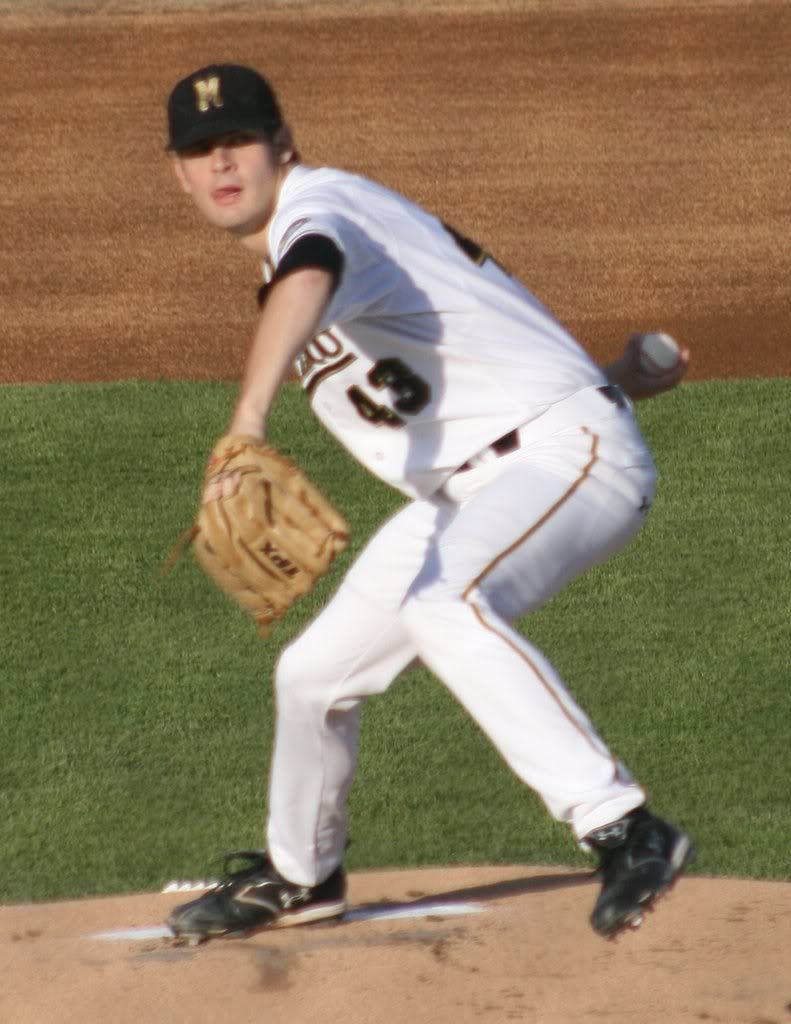 I have to admit that I was a little disappointed in seeing Crow in person. He has been tabbed as a top five pick in the draft, but he was far too inconsistent to me. His flashes of dominance showed what he is capable of, but I'm not sure that is enough for a top five pick.
As a bonus, here is three picture sequence of Trevor Coleman ripping a pitch into leftfield: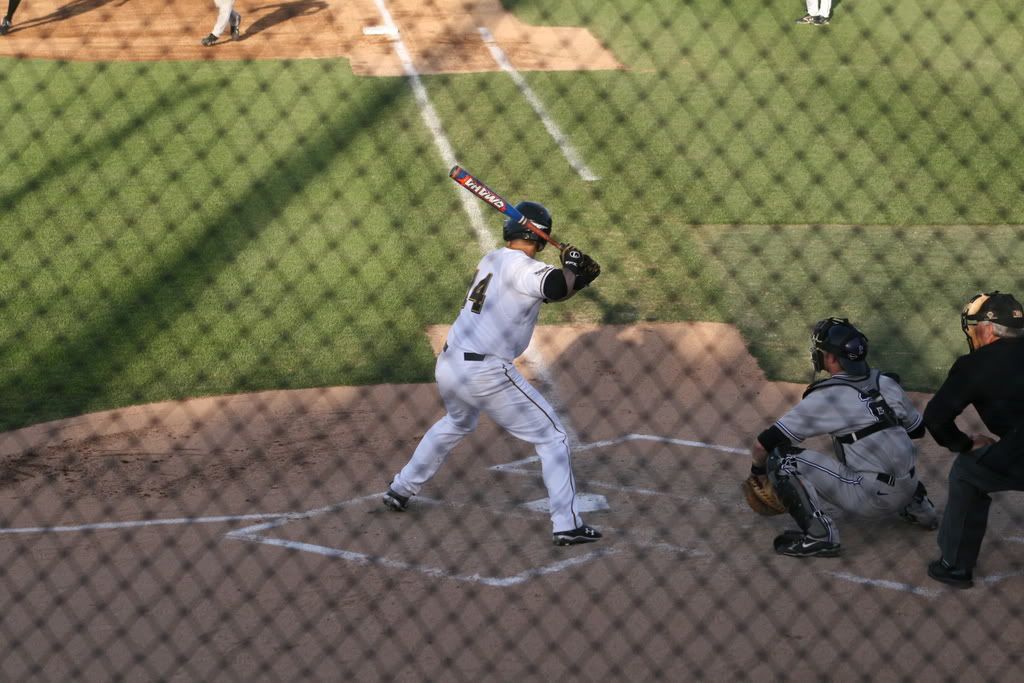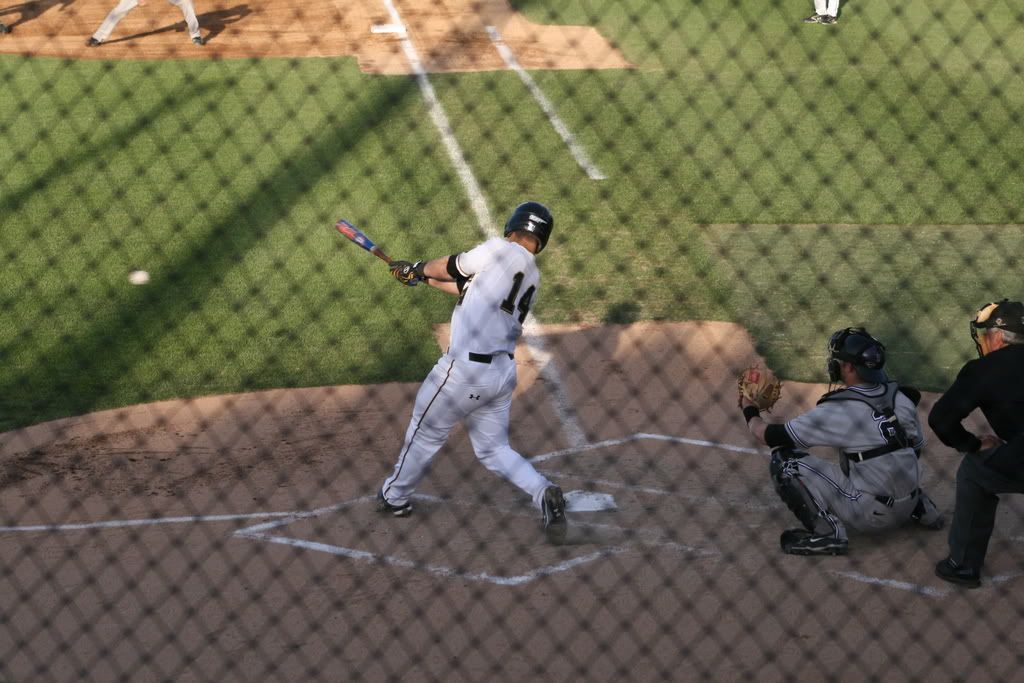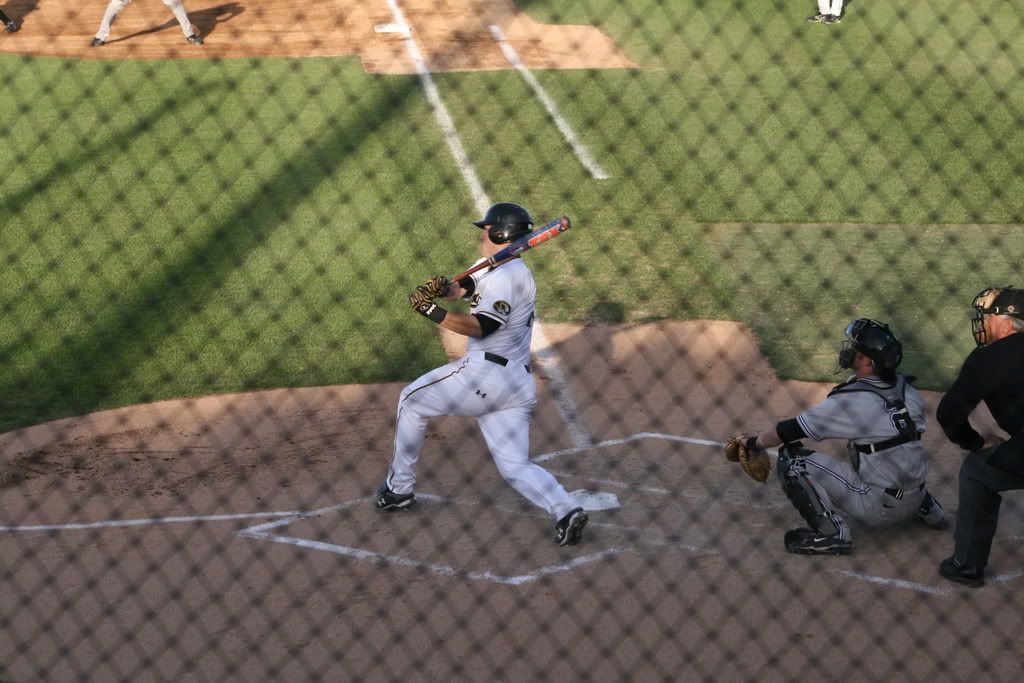 Coleman is a switch hitting catcher who hits for power and average from both sides of the plate. He seemed to handle himself well behind the plate, too, as he threw out a runner trying to steal and did a good job of blocking pitches in the dirt. He is only a Sophmore this year, but I would expect him to get some early draft consideration in 2009.